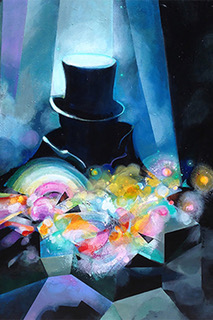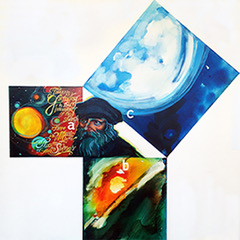 Artist Statement
I wish to spend a lot of my time in a world not governed by "thou- shalts" and "thou-shalt-nots," outside the realm of stultifying politically correct v. politically incorrect shibboleths. I'd much rather be in the world of color, line, texture, shape & etc. As an artist, I can insulate myself from the madding crowd. That's my favorite part of being involved, though my involvement be ever so humble, in the world of art.
FAL member artist/designer Ramona Weaver received a degree in art from Auburn University and did subsequent study at Georgia State University and The Peralta College in San Francisco.
Ms. Weaver is retired from a graphic design career, during which time she received Awards of Excellence from the Art Directors' Clubs of New York, Atlanta, and Savannah as well as from the American Institute of Graphic Arts and Art Direction magazine. As well, she has received various awards in the Northern Virginia area where she has shown at Herndon ArtSpace, The Sherwood Center, Blenheim, The Railroad Museum, the Fredericksburg Center for Creative Arts, NOVA-Manassas, Artists in Middleburg and at the Fairfax Art League galleries.
See more of her work at https://art-rpw.com